10th ANNIVERSARY EXPANDED EDITION – LIMITED HARDCOVER
448 pages, including 48-page color section
Cover Price: £39.99 (UK) / $59.95 (US)
Available from FAB Press HERE >>
Featuring 100 additional reviews in a larger format book, and the return of the author's preferred cover, depicting Marina Pierro in Walerian Borowczyk's Dr. Jeckyll and his Women (1981).
EACH HARDBACK PRE-ORDERED DIRECT FROM FAB PRESS INCLUDES THE OPTION OF A PERSONALLY AUTOGRAPHED AUTHOR SIGNATURE PLATE
STRICTLY LIMITED 10TH ANNIVERSARY EDITION INCLUDES EXCLUSIVE CD — Author Kier-La Janisse reads the literary classic 'The Yellow Wallpaper' with original score by Timothy Fife and artwork by Katy Horan (Ask Baba Yaga, Literary Witches) — PLEASE NOTE: the CD will not be available via mainstream book trade outlets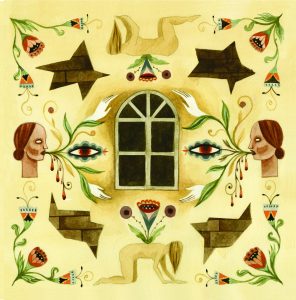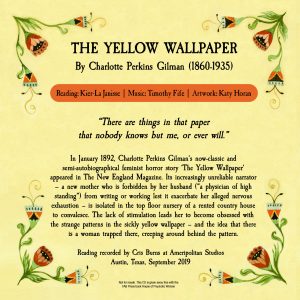 ---

PAPERBACK – ORIGINAL EDITION ONLY
Featuring "Let's Scare Jessica to Death" cover design by Silver Ferox
360 pages, including 32-page color section
Cover Price: £19.99 (UK) / $29.95 (US)
Available from FAB Press HERE >>
Also available on Amazon, bookstores and libraries.
---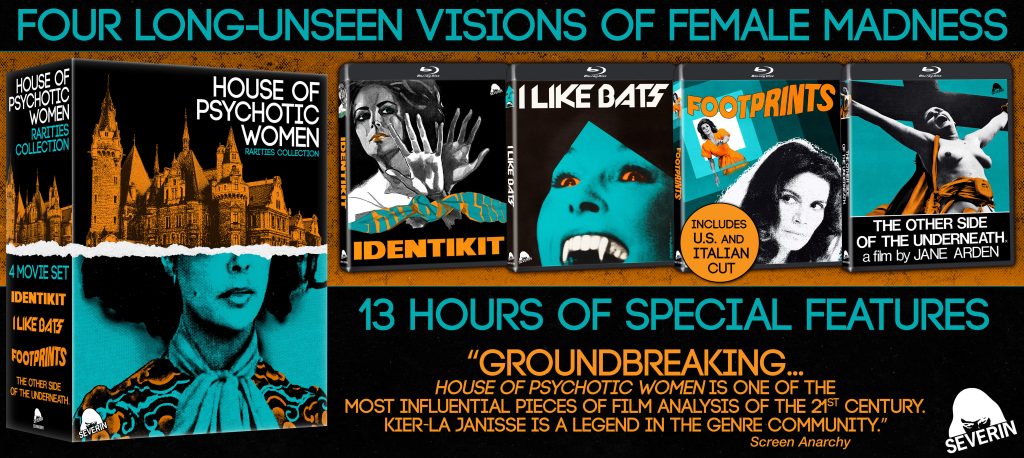 HOUSE OF PSYCHOTIC WOMEN: RARITIES COLLECTION
5-Disc blu ray box set
Curation, art direction and special features produced by author Kier-La Janisse
Available from Severin Films HERE >>
(also book+box set bundles available, scroll down for details)
In 2012 Kier-La Janisse published House of Psychotic Women, billed as "an autobiographical topography of female neurosis in horror and exploitation films." It soon became one of the most "vital" (Tim Lucas, Video Watchdog) and "astonishing" (Daily Grindhouse) genre tomes of all time. To mark the book's 10th anniversary, award-winning writer/programmer/filmmaker Janisse (WOODLANDS DARK AND DAYS BEWITCHED) now presents four of the strongest and strangest explorations of onscreen delirium and hysteria, all on American Blu-ray for the first time: Elizabeth Taylor stars in 1974's IDENTIKIT (aka THE DRIVER'S SEAT) as a hostile woman who travels to Rome for a dangerous liaison. In the surreal 1986 Polish horror-comedy I LIKE BATS, a female vampire discovers that love may be the cruelest curse of all. Florinda Bolkan stars in the startling 1975 amnesiac giallo FOOTPRINTS from the director of THE FIFTH CORD. And British screenwriter and radical theatre icon Jane Arden directs 1972's harrowing THE OTHER SIDE OF THE UNDERNEATH. Each film has been restored from original vault elements, with all-new introductions by the author and hours of Special Features produced exclusively for this collection.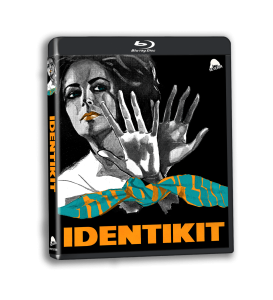 Disc 1: Identikit (1974)
In what remains the most obscure, bizarre and wildly misunderstood film of her entire career – and perhaps even '70s Italian cinema – Elizabeth Taylor stars as a disturbed woman who arrives in Rome to find a city fragmented by autocratic law, leftist violence and her own increasingly unhinged mission to find the most dangerous liaison of all. Academy Award nominee Ian Bannen (THE OFFENCE), Mona Washbourne (THE COLLECTOR) and Andy Warhol co-star in this "unique, hallucinatory neo noir" (Cult Film Freaks) – barely released in America as THE DRIVER'S SEAT – directed by Giuseppe Patroni Griffi ('TIS PITY SHE'S A WHORE), adapted from the unnerving novella by Muriel Spark (The Prime Of Miss Jean Brodie) and featuring cinematography by three-time Oscar  winner Vittorio Storaro (APOCALYPSE NOW, THE LAST EMPEROR), now restored in 4K by Severin Films. 
Disc Specs:
Runtime: 102 mins
Audio: English Mono / Closed Captions, Italian Mono / Optional English Subtitles
Region A
Aspect Ratio: 1.85:1
Special Features:
Introduction By Kier-La Janisse, Author Of House Of Psychotic Women
Audio Commentary With TCM Underground Curator Millie De Chirico
A Lack Of Absence — Writer And Literary Historian Chandra Mayor On Muriel Spark And The Driver's Seat
Trailer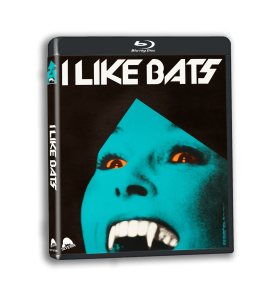 Disc 2: I Like Bats (1986)
Directed and co-written by Grzegorz Warchol – the Polish actor best known for his performance in THREE COLORS: WHITE – this 1986 Perspektywa Film Group production combines splashes of absurdist black comedy with jolts of old-school gothic horror for a slyly contemporary take on the female bloodsucker mythos. Katarzyna Walter stars as a happily single young vampire who works in her aunt's curio shop when not feeding on various suitors and sleazebags. But when she falls for a handsome psychiatrist, she'll discover that no affliction is more horrific than love. Co-scripted by feminist writer/activist Krystyna Kofta and featuring poet, songwriter and cabaret icon Jonasz Kofta in his sole film role, I LIKE BATS is now scanned in 2K from the only 35mm print known to exist.
Disc Specs:
Runtime: 81 mins
Audio: Polish Mono / Optional English Subtitles
Region Free
Aspect Ratio: 1.66:1
Special Features:
Introduction By Kier-La Janisse, Author Of House Of Psychotic Women
Audio Commentary With Kamila Wielebska, Actor And Co-Editor Of A Story Of Sin: Surrealism In Polish Cinema
TV Spot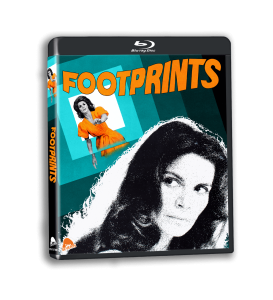 Discs 3 & 4: Footprints (1975) – U.S. Cut and Italian Cut
In the most criminally underseen giallo of the '70s, Florinda Bolkan (A LIZARD IN A WOMAN'S SKIN, FLAVIA THE HERETIC) stars as a freelance translator who wakes one morning missing all memory of her past three days. But will a trail of odd clues lead her to a place where perception and identity are never what they seem? Nicoletta Elmi (DEEP RED), Evelyn Stewart (THE SWEET BODY OF DEBORAH), Lila Kedrova (THE TENANT) and Klaus Kinski co-star in this "visually stunning gem" (Mondo Digital) – also known as FOOTPRINTS ON THE MOON – directed by Luigi Bazzoni (THE FIFTH CORD) with cinematography by three-time Oscar winner Vittorio Storaro (THE BIRD WITH THE CRYSTAL PLUMAGE), now scanned in 4K from the original camera negatives.
Disc Specs:
Runtime: 93 mins (U.S. Cut), 96 mins (Italian Cut)
Audio: English Mono / Closed Captions, Italian Mono / Optional English Subtitles
Region A
Aspect Ratio: 1.85:1
Special Features:
Introduction By Kier-La Janisse, Author Of House Of Psychotic Women
To The Moon — Interview With Actress Ida Galli
Nicoletta Elmi: Italian Cinema's Imp Ascendent — Video Essay By Film Scholars Alexandra Heller-Nicholas And Craig Martin
Audio Commentary With Film Historian Kat Ellinger (Italian Cut)
Light Of The Moon — Interview With Cinematographer Vittorio Storaro
Trailer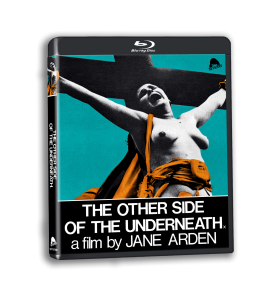 Disc 5: The Other Side of the Underneath (1972)
It's been called "harrowing" (The Guardian), "seriously disturbing" (Blu-ray.com) and "part documentary, part primal scream" (Screen Slate). More than half a century later, it remains all that and more: In 1972, screenwriter/feminist/radical theater icon Jane Arden adapted her own multimedia stage production "A New Communion for Freaks, Prophets and Witches" into a nightmarish exploration of reason, chaos and her own battles with mental illness unlike anything audiences have seen before or since. Sheila Allen (CHILDREN OF THE DAMNED), Ann Lynn (THE BLACK TORMENT), renowned visual artist Penny Slinger and Arden herself star in the only British feature film of the 1970s solo-directed by a woman, recently restored in 2K by the British Film Institute.
Disc Specs:
Runtime: 111 mins
Audio: English Mono / Closed Captions
Region Free
Aspect Ratio: 1.33:1
Special Features:
Introduction By Kier-La Janisse, Author Of House Of Psychotic Women
Extended Workprint Version Of The Film
Sheila Allen Interview
Natasha Morgan Interview
Extended Sequences
Penny Slinger Live At The Miskatonic Institute of Horror Studies
PENNY SLINGER: OUT OF THE SHADOWS Trailer
---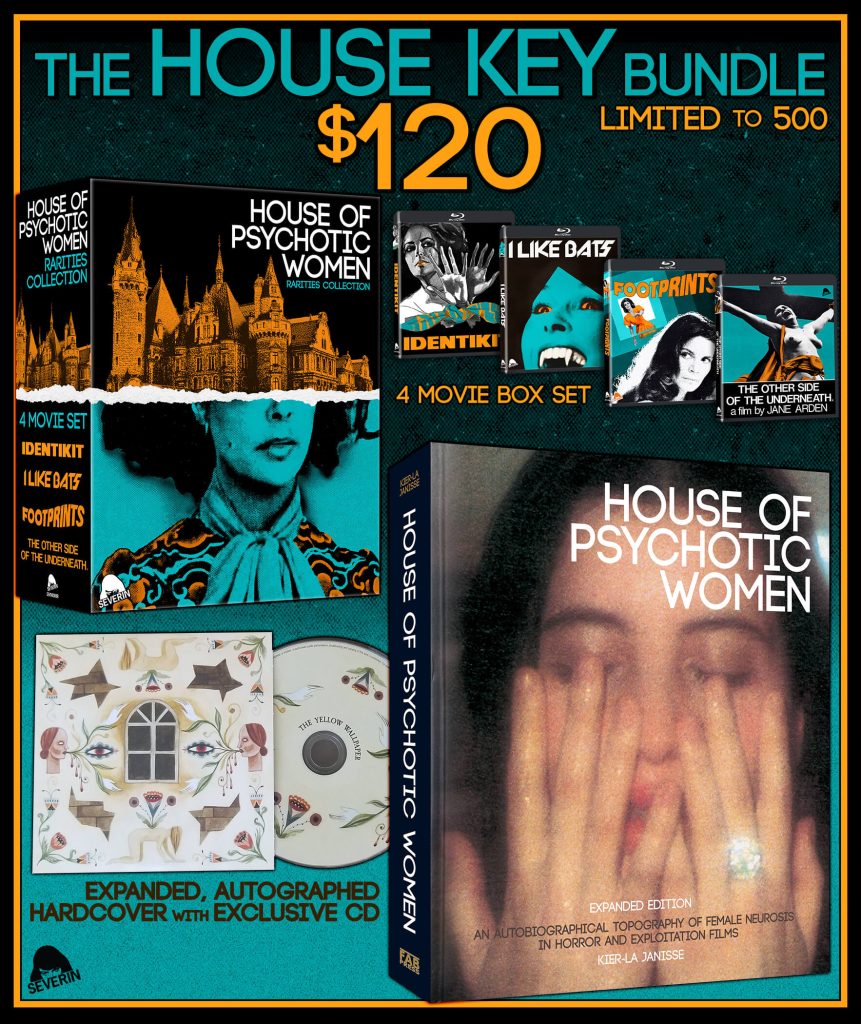 THE HOUSE KEY BUNDLE
Includes 5-disc blu ray box set and House of Psychotic Women book w/ CD
Available from Severin Films HERE >>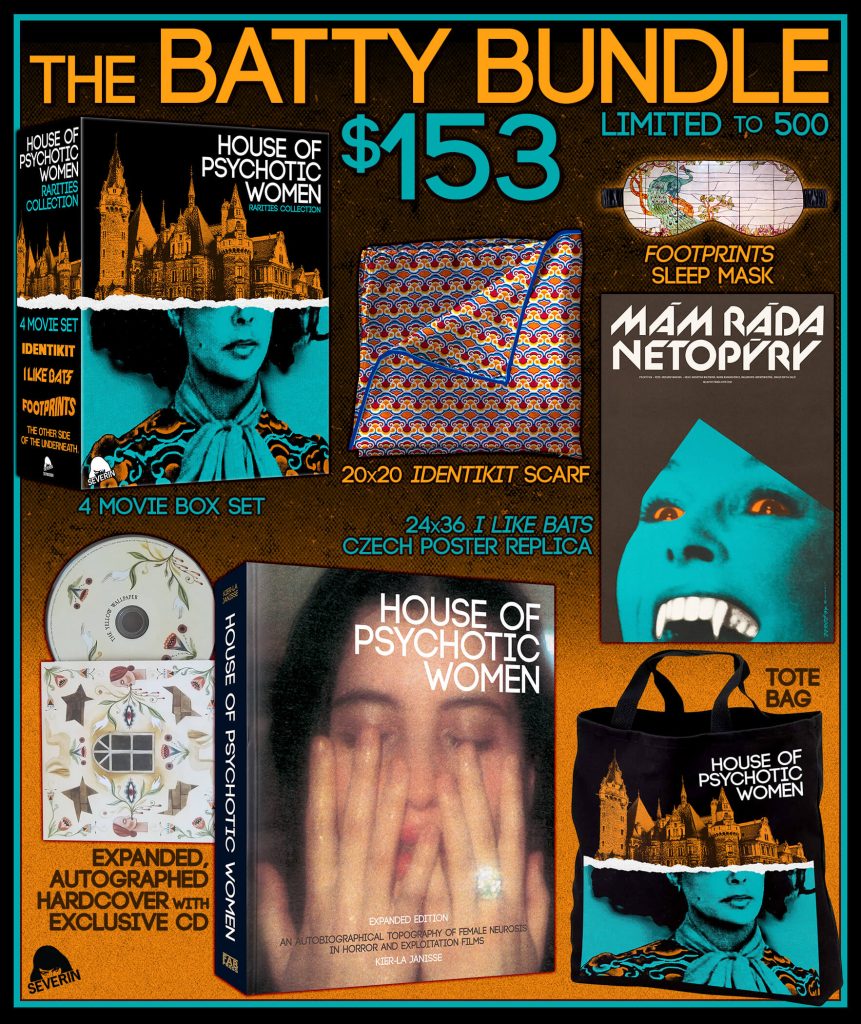 THE BATTY BUNDLE
Includes 5-disc blu ray box set, House of Psychotic Women book w/ CD, tote bag, Footprints sleep mask, Identikit scarf, I Like Bats Czech poster replica (folded)
Available from Severin Films HERE >>
---
Top image: THE DEVILS (Ken Russell, 1971)