Since its debut at the Fantasia International Film Festival in 2012, House of Psychotic Women has been the focal point of several retrospectives, screening series, exhibits, and more. Below is an example of some of them.
---
RETROSPECTIVE – CINEFAMILY, 2013
From the program notes:
"Using a heavily autobiographical perspective to explore the heavy stew of female neurosis found in horror and exploitation films, author/film programmer/Cinefamily friend Kier-La Janisse has just published a film criticism tome for the ages: "House of Psychotic Women" (published by FAB Press.) In this incredible new work, anecdotes and memories interweave with film history, criticism, trivia and confrontational imagery to create a reflective personal history and examination of female madness — both onscreen and off. The publication of this eminently readable volume is the launching pad for a film series we've been very excited about quite some time, as it gives us the chance to weave together many various strands of the horror canon into one beautiful layer cake of crazy.
We're thrilled to not only have Kier-La's curatorial guidance (honed at such great places as the Alamo Drafthouse, as well as Canada's Blue Sunshine Psychotronic Film Centre, POP Montreal and the CineMuerte Horror Film Festival), but also Kier-La in person for the Feb. 1st show of 3 Women and the Feb. 5th show of Play Misty For Me!"
---
"IMAGINARIUM OF PSYCHOTIC WOMEN" – MOVIE INK. AMSTERDAM, 2013
In 2013 Amsterdam's Imagine Film Festival invited me to give a presentation on the book, participate in a panel and introduce several screenings at their key venue, the EYE Institute. In conjunction with that visit, Wim at Movie-Ink – who loaned me many images for reproduction in the book – organized a related exhibit of relevant items in his extensive collection.
From the program notes:
"This multimedia exhibit parallels the program at Amsterdam's Imagine Filmfestival held this year at the EYE filmmuseum from April 8 to April 17. We zoom in on the theme of the HOUSE OF PSYCHOTIC WOMEN inspired by Kier-La Janisse's eponymous book.
For those who haven't yet, buy it quickly, it is cheap and interesting and a fantastic guide to watch and re-watch classic and recent shockers, thrillers and dramas. Our count is now on 25 after The PERFUME OF THE LADY IN BLACK, CARRIE and DON'T DELIVER US FROM EVIL and we're only at Chapter 6.
This exhibit is a bit of a challenge as the book is an "autobiographical exploration of female neurosis" and we at MOVIE INK. are more or less not female nor indeed Miss Janisse. We do have some issues though, issues that should lead to an engaging exhibit. We'll make this expo a more covert operation after our last straight forward showcase-exhibit of LA DOLCE VITA, more an expose maybe than an exhibit. We try to create the right atmosphere where cult afficionados, male and female feel right at home. To be true to our exploitation heroes we also feature a few gimmicks and contests. In any case there will be room for a SCREAMTEST and we'll run a WHO ARE THESE WOMEN IN THE WINDOW?-contest of course complete with prices to be won. As we do like to display movie art we naturally have some niece pieces on display.
The grand opening will be Saturday April 13th from 3 to 8 PM. The exhibit can also be visited Sunday April 14th and every Friday and Saturday until April 27th. Opening hours are noon to 6.30 PM."
---
"DRIVING MISS CRAZY – OFFSCREEN FILM FESTIVAL, 2016
This Brussels festival mounted what was likely the most extensive retrospective associated with the book, showcasing 27 films and creating thematic decor and menu items for their main venue's bar. From the program notes:
"While neurotic personalities have been pervasive throughout film history, few capture the imagination as wildly as the offshoots of female psychosis. A favoured staple feature in genre films, the neurotic woman stars as a vicious harpy in both horror and exploitation and incarnates the paranoid, hysterical, obsessive and downright dangerous forces found in the thriller and the psychological drama. Our selection covers a vast array of films made from the 1940s onwards, the era where women fought for equal rights and freed themselves from the stifling bodice of a male centered society. The weaker sex? We beg to differ.
This extensive programme gets its inspiration from the book by the Canadian film curator (Fantastic Fest), journalist (Fangoria) and auteur Kier-La Janisse: "House of Psychotic Women: An Autobiographical Topography of Female Neurosis in Horror and Exploitation Films" (Fab Press, 2012). She will provide an introduction for some of the films during the first festival weekend."
---
"HOUSE OF PSYCHOTIC WOMEN" EXHIBIT – ADAMASTOR STUDIOS, LISBON, 2015

Drawings, Prints, Mural Paintings and Writings
by Charleine Boieiro, S. de Matos & Gwendolen DupréSpecial Guests:
Simon Philippe (video), Nuno Samora (lighting design), Laura Scott (prints) & João P. Nunes
This exhibit is probably the greatest thing to come out of the book. The artists not only activated a soon-to-be demolished heritage building to host the show in, but painted all the walls and stairwells with patterns and murals inspired by the book. It spawned great friendships; I now have several tattoos by artist Charleine Boieiro, and she and artist Sandra de Matos created all the custom overlays that I use on this website. The video that plays on its homepage was also created for this exhibit.
From the program notes:
"The exhibition took as its starting point the book "House of Psychotic Women – An autobiographical topography of female neurosis in horror and exploitation films" (FAB Press, 2012), by Canadian author, Kier-La Janisse.
The work of the artists is primarily inspired by several films selected from the vast canon of psychotic women in cinema; the female protagonists and their impaired contact with reality becoming the main focus of the drawings, prints, writings and murals on show.
The author Kier-La Janisse will be present at the opening and for the event "An evening with Kier-La Janisse", as a special guest of the Adamastor Studios, in partnership with the MOTELx festival."
---
HOUSE OF PSYCHOTIC WOMEN – THE SERIES
In 2017 author Kier-La Janisse and producer Andy Starke of Rook Films pitched a television series based on the book at the Frontieres International Film Market.
Based on film critic Kier-La Janisse's acclaimed memoir of the same name, House of Psychotic Women is the dramatized tale of a 15 year old horror fan named CARLY who is abandoned to the child welfare system in 1980s Winnipeg after a suicide attempt.
The series follows CARLY as she is hurled through a broken system – from lock-ups to foster homes to the much-coveted 'independent living program' – attempting to find stability in the dysfunction, and forming ephemeral connections with the troubled youth whose journeys parallel her own. As CARLY is prodded to tell her story in obligatory counselling sessions, her memories are filtered through the terrible but strangely comforting imagery of horror cinema – offering warnings, and in some cases, reinforcements, that will help her transcend her past.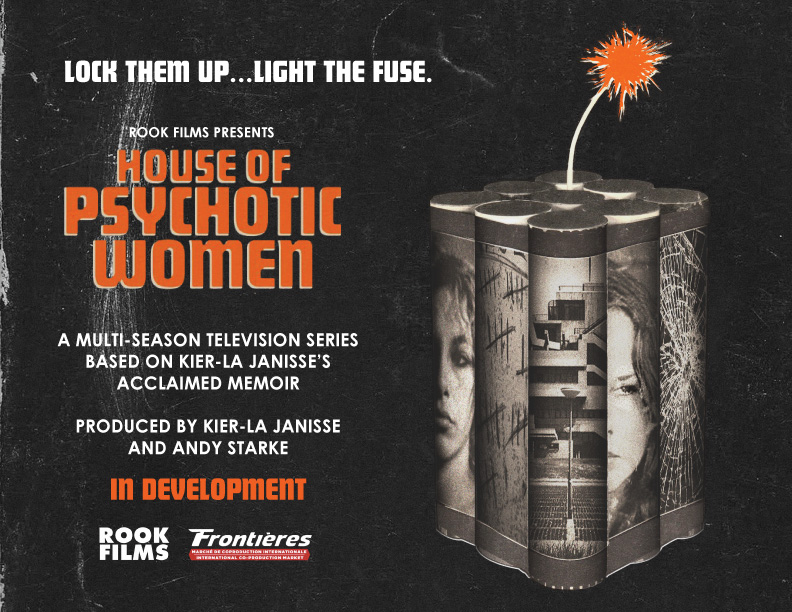 ---
Top image: DARLING (Mickey Keating, 2015)